TOUCHET / TUCHET
LORD AUDLEY GENEALOGY
This family is of great antiquity - see genealogy back to Old King Coel;

They came in with William the Conqueror, the name being in the Roll of Battle Abbey and Chronicles of Normandy (see Selly's Pedigree of Nobil., MS., P. 37). The first from whom, in lineal succession, the late Earl of Castlehaven and Lord Audley derived his descent is
ORMUS TOUCHET,b. 1070 Buglawton, Cheshire who had issue Matthew, and probably Hugh and Jacelyn

MATHEW TOUCHET, b. 1100 Buglawton, Cheshire, England, had son.
SIMON TOUCHET, b. 1132 Buglawton, Cheshire, m Petronilla, b. 1140 Buglawton, Cheshire and a son Robert ; m. 2nd Alice de Coleville
ROBERT, b. 1160 Buglawton, m Alice FitzRoger, 1164 Nether, Whitely, England had a son,
THOMAS, b. 1192 Buglawton, m Isabella, b 1196 and had sons
ROBERT, see below
William, b 1222
ROBERT, b 1218, Buglawton, d. 1248; mar. Eva de Apleby and had sons,
THOMAS, see below
Richard, b 1246
THOMAS, b 1244 had sons Simon, b 1279 and
ROBERT, b 1275 Buglawton, d.1337 Mark Eaton, Derbyshire. mar. Agnes, b1279 Buglawton, Cheshire and had sons
THOMAS, b 1298, see below,
Robert, b 1300, mar Matilda de Broomhall
Asides:
HUGH de TOUCHET gave to the Abbey of Leicester his lands in Esswell which Henry II. confirmed.
WILLIAM TUCHET, having summons to parliament among the barons, from 1295 to 1307, was in that expedition made into Gascoigne, and the year following in that into Scotland.In 29th of Edward I. he was one of the Barons who subscribed (being wrote William Touchet Lord of Leevenhales) a letter to Pope Boniface in answer to his claiming the sovereignty of Scotland, wherein they asserted that the king ought not to send any proctors, &c., to His Holiness, in any matter touching his temporalities, &c. They tell the Pope they will maintain with all power, and by God's help, the liberties, customs, &c., of their forefathers.To him succeeded another
WILLIAM TOUCHET , who in the 1311 received command to serve in Scotland, as likewise in 8th of same reign, also in 1319 of Edward II. was again in the wars of Scotland; but three years after, on the insurrection of Thomas, Earl of Lancaster, and his defeat at Burrough Brigg, being there taken with him, he suffered death at Pomfret.
THOMAS, his son(?), was beheaded, being concerned in the insurrection of Thomas, earl of Lancaster, 1321
Line starts again here,
THOMAS, son of Robert, b 1298 Mark Eaton, Derbyshire, died bet 146-1350, m Joan, b.1302 Mark Eaton, Derbyshire and had issue
SIR JOHN TOUCHET,twenty-two years of age when he succeeded his father. Was in the wars of France, and at the relief of Aquillon. And in the 25th of Edward III., doing his homage, had livery of his lands in Co. Salop, In 1360 he was at the seige of Rheims, in Champagne, and afterwards was a principal commander in the wars of France under John Hastings, Earl of Pembroke, when in 1370 they took several towns in Anjou. But the year after, embarking with the Earl of Southampton, in order to invade France by Poctore, and coming before Rochelle, June 22nd, to land there, and meeting with the Spanish fleet, there ensued a desperate engagement, wherein this Sir John Touchet was slain, and the Earl taken prisoner, the Spaniards being in greater force, and their ships much more numerous than the English. He was m.
first to Margaret de Mortimer and,
second to Joan de Audley, b.1331, daughter of James, and sister and co-heir of Nicholas Audley, baron Audley of Heleigh, and had issue.
JOHN TOUCHET II, Baron de Audleigh, who mar. Margery de Mortimer and and issue, John below
Richard
SIR JOHN, b, 1371, who was, in 1391, found to be heir to Joan, his grandmother and assumed the title, and was possessed of many lordships and inheritances. He was ordered in 1403 (by reason of Owen Glendower's rebellion) to put a garrison into Lanqudevery, in Wales. He was also one of the Barons who in Parliament considered that the succession of the Crown of England had been settled on Henry Prince of Wales and his heirs male, with remainder to his \brothers and their heirs male, whereby the females were excluded. They, at the King's request, with the consent of the Commons, repealed the said Act, setting their hands and seals to the succession whereby the females were included. He died on December 19th,1409. He m.Isabel Tuchet, b.1375 Heleigh, Staffordand left issue,
JAMES, see below
Elizabeth who married John Baskerville b 12 FEB 1403, d.: 23 DEC 1455
JAMES TOUCHET, 2nd baron Audley, who distinguished himself in the wars of France, in 1418; but in 1428, being sent by Queen Margaret to oppose Richard Neville, earl of Salisbury , then in arms in favour of the house of York, he was defeated and killed at Blore-heath, co. Stafford, with 2400 of his companions. He m. Margaret, daughter of William Lord Roos, of Hamlake, (ancestor of Charlotte, the present baroness de Ros,) leaving issue
JOHN 3rd Baron
Anne, m. sir Thomas Dutton, of Dutton, co. Chester, whose 5th daughter, Eleanor, m. Richard Cholmondeley, esq. ancestor of the earls of Cholmondeley.
TOUCHET Seized of the manor of Soperton, and a fourth part of that of Beggeworth, in Co. Glouc., as also of divers other manors and lands in the Marches of Wales and Staffordshire, the Counties of Salop, Rutland, Derby, Devon, Somerset, and Wiltshire, having by Isabella his wife,
JAMES, his son and heir, also a
daughter, married to BASKERVILLE JAMES TOUCHET, Lord Audley, grandfather of
JAMES TOUCHET, Lord Audley executed on 27 June 1497 at Tower Hill,
JOHN TOUCHET, was restored in blood to the dignity of Lord Audley in 1513. His lordship married Mary daughter of John Giffin, Esq., of Bradwell, Co. Northampton, and was succeeded by his son,
GEORGE TOUCHET, Lord Audley, who in married Elizabeth, daughter of Sir Bryan Tuke, Knight, Treasurer of the Chamber to Henry VIII., and was succeeded by his son,
HENRY TOUCHET, Lord Audley, who married Elizabeth, daughter of Sir William Snede, of Bradwell, Co. Stafford, and, dying in 1595, was succeeded by his elder son,
GEORGE TUCHET, 1st Earl of Castlehaven,(1550?-1617). 11th (8th according to NB) Lord Audley, was created Earl of Castlehaven, and Baron Orier in Ireland, 1617. He was the governor of Utrecht, was wounded at the seige of Kinsale on 24 Dec.1601, was an undertaker in the plantation of Ulster, was summoned by writ to the Irish Lords on 11 March 1613-14, was created a peer of Ireland as Baron Audley of Orier, co. Armagh, and Earl of Castlehaven, co. Cork, on 6 Sept. 1616, and died in March 1617 (Hill, Plantation of Ulster, pp. 134,335; Cal. State Papers, Dom. 1611-18, p.449)
He married 1st, Lucy, daug of Sir John (some say James) Mervyn of Fonthill, d before 1610.
m 2nd Elizabeth Noel, daug of Sir Andrew Noel , Leic, d 1644- m 2nd Sir Piers Crosby. His children were,
MERVYN, 2nd Earl of Castlehaven, see below
Ferdinando, K.B., d.1632, m. widow of Sir John Rodney of Pilton, Somerset
Elizabeth, d. 1662, m 1st Sir John Stavel or Stawel, Somerset and m 2nd, Sir Thomas Giffin of Dingley, Northants.
Mary, b 1579, m. Sir Thomas Thynne of Longleat, Wilts
Christian, m. 1646 Sir Henry Mervyn of Petersfield, Wilts. M.P for Wooton Bassett.1614 Admiral of the narrow Seas

Deborah,.m Sir Leonard Blennerhasset


Eleanor, 1590-1652, m 1st, Sir John Davies, d.1626; m 2nd Sir Archibald Douglas

Lucy, m Ferdinando Hastings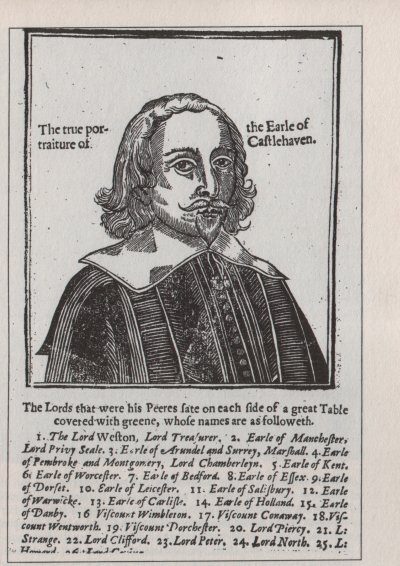 2nd Earl of Castlehaven
, (1592?-1631),was beheaded on Tower Hill for unnatural offences, after a
trial by his peers
, on 14 May 1631 and his honours forfeited. (Cobbett,
State Trials, iii. 401-26; The Arraignment and Conviction of Mervin Touchet, Earl of Castlehaven,
with rough portrait as frontpiece, London, 1642). He had six children by his first wife,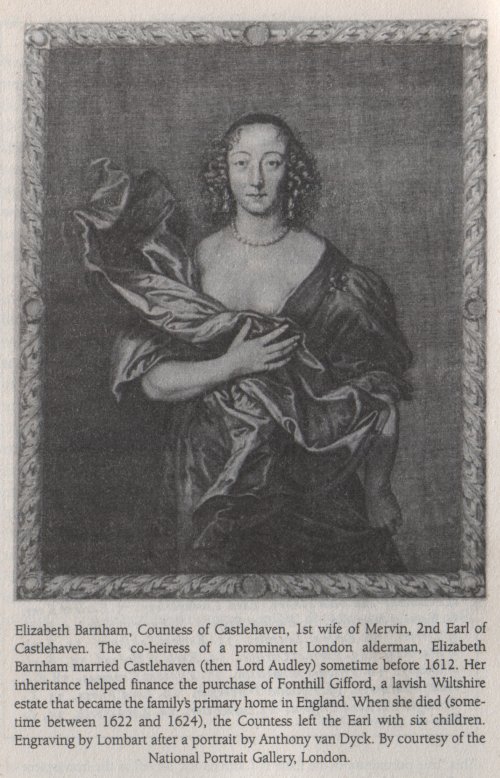 His children by his first wife Elizabeth Barnham were,

His eldest son and heir, JAMES TUCHET 3rd Earl of Castlehaven (1614-84), by his first wife, was born about 1617.

m. 1st, Elizabeth Brydges (1615-1679) daur of Lord Chandos, daughter of his father's second wife, Anne Stanley Bridges.
m 2nd Elizabeth Graves.

George, d. ?1689, monk
Mervyn, 4th Earl of Castlehaven , 1612 -84 (86?), m Mary, daug of John, Earl of Shrewsbury and widow of Charles Arundel, d 1710/11.
Lady Lucy Touchet, d. 1662


m. 1st John Anketell of Farriby. (of Compton, Wilts and Newmarket, Cork). John was a favourite of Melvyn's. He was accused by Lady Audley of raping her mother Elizabeth at the instigation of her husband, Melvyn.

their daughter Frances Anketel married Thomas O'Grady grandfather of Viscount Standish O'Grady, Lord Guillamore.

m. 2nd Gerald Fizmaurice, son of Lord Kerry

Dorothy, d1635, m Edward Butler, 4th Viscount Mountgarret
Frances, b. 1617, m. Richard Butler

He married 2nd, Anne Stanley Bridges (1580-1647) , daughter and co-heir of Ferdinando Stanley (d.1594), 5th earl of Derby and Alice Spencer(d.1637), Dowager Countess of Derby; widow of Grey Brydges (1521?-1621), 5th Baron Chandos whose daughter Elizabeth Brydges was the victim in the indecent assault and who later married James Tuchet.
JAMES TUCHET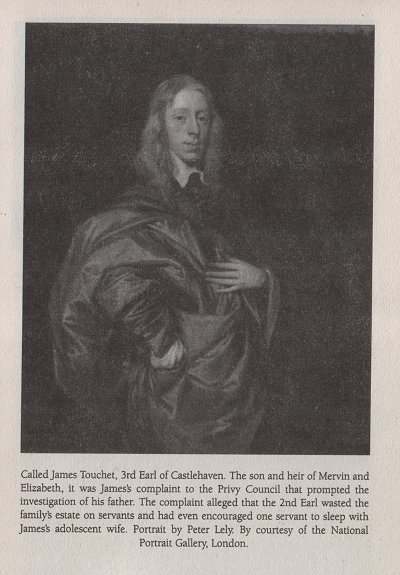 was restored to the dignities 1634, and became the
3rd Earl of Castlehaven, in Ireland
, and 10th Lord Audley, in England; he had a command against the rebels in Ireland, under the duke of Ormond, and has left an account of his warfare, entitled
Castlehaven's Memoirs.
He married Elizabeth Brydges, his father's step-daughter, who had been the subject of the indecent assault which brought about the downfall of Mervyn Touchet.
Note from C. Herrup's book, reviewed by D. Wooton: John Anktill was the younger son of decayed genteel stock from Dorsetshire. He came to Fonthill as Castlehaven's page, progressed to managing some of the estates, and in 1621, represented the family interest as a member of Parliament. Allegedly without the Earl's consent, he married Castlehaven's eldest daughter
Note from Rictor Norton's essay - ...Amptil (or Antill in some accounts) sometimes also participated in these odd nuptial rites, though he was usually busy elsewhere. Amptil had originally been a beggar and a vagabond, until Sir Henry Smith picked him up and made him his footman. Castlehaven eventually acquired Amptil as his personal page, and found his services so agreeable that he made him his master of the stables. For thus tending his horses, Castlehaven gave Amptil a salary of £500 per year, compared with a yearly allowance of only £100 given to his own son James. James was furious when Castlehaven arranged for Amptil to marry his daughter by his first marriage, giving Amptil a dowry of £7,000. As will appear throughout the tale, Castlehaven was a kind master, though an unkind father and a vicious husband.
Dictionary of National Biography
When a mere boy of thirteen or fourteen, James was married to Elizabeth Brydges (daughter of his father's second wife, Anne, by her first husband, Grey Brydges, fifth baron Chandos of Sudeley). when scarcely twelve years of age, the girl had been forced by her stepfather (Mervyn Tuchet) into criminal intercourse with her mother's paramour, Skipworth. She died in 1679, and was buried in St Martin's-in-the-Fields. Utterly neglected as to his education, and disgusted at the scenes of bestiality he was compelled to witness, but preserving his natural sense of decency intact, he appealed for protection from the earl, his natural father, to the father of his country, the king's majesty, and was instrumental in bringing his father to justice. (Cal. State Papers, Dom 1629-31 p.371, 1631-3 p.20). His conduct, though a severe strain on his filial duty, was regarded with approval, and on 3 June 1633 he was created Baron Audly of Heleigh, with a remainder to his heirs forever, and with the place and precedency of George, his grandfather; but in the meantime most of his father's estates in England had passed into the hands of Lord Cottington and others. In so far as the creation was virtually a restoration to an ancient dignity it lay outside the power of the crown alone to make it, but the necessary confirmation was obtained by act of parliament in 1678. As for the Irish peerage, it was held to be protected by the statute de donis, preserving all entailed honours against forfeiture for felony. (cf. Cokayne, Peerage, and legal authorities quoted).
Cynthia Herrup's view is that James and Elizabeth loathed each other. A year into the marriage, they were already estranged, and she started having an affair with Skipworth. All sorts of intrigues have been associated with this scandal mostly fuelled by the fact that James was of Irish stock and a staunch catholic, and his father was protestant; well so he said. The Castlehaven lands in England were worth a great deal of money, especially Fonthill Gifford, Wiltshire, and almost doubled the King's coffers when confiscated and put into the Crown's hands. Much of the rumours were aimed at Lord Francis Cottington, privy councillora and Chancellor of the Exchequer, who had been made Baron but had no estates appropriate to his title. He was owed thousands by the King. Charles I granted Cottington Fonthill and associated properties in consideration of £10,500 paid to the Exchequer and £6,000 to James, the 3rd Earl. James' title and land (except Fonthill) were all later restored to him but by 1641 he had petitions before the House claiming that his father died of an unlawful conspiracy directed from the Privy Council rather than from within the family - he failed in his petition but Cottington resigned soon afterwards and retired on ground of ill health to Fonthill Gifford.
For another view, you should read Rictor Norton's account last seen at this link
JOHN TALBOT TOUCHET
The Castlehaven Earldom expired in 1777 with the death of John Talbot Touchet, the 8th Earl. The Audley Barony continues to the present via the female line.
Fontill Gifford
The manor and estates of Fonthill Gifford were eventually bought by William Beckford (1760-1844), a descendent of the original Mervyn family owners, and the richest man in England in his time. He built the famously grand Fonthill Abbey and was pillaried for his relationships with young boys.
Sources:
1) the Dictionary of National Biography quoting from original sources.
2) "A House In Gross Disorder- Sex, Law and the 2nd Earl of Castlehaven" by Cynthia B. Herrup and a review by David Wooton
3) "The Trial of Mervyn Touchet, 1631" - Rictor Norton. Well worth a read.
4) "The Trial of Mervyn Touchet, 1631" - the verdicts of the jurors.
---
---
---
Tom Paterson (last updated 30th Dec 2010)